Call to book your hunt today.  KELLY 780-305-9083 | CHELSEY 780-898-8463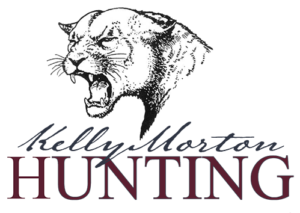 Welcome to Kelly Morton Hunting
We offer hunts for a variety of species throughout North America. However, our passion for pursuing predators with hounds is a very strong one, and that's what we specialize in!
With an unrivaled dedication to hunting and guiding, we are 100% committed to making your hunt a success. Our goal is to send you home with the trophy of a lifetime, and a deep desire to be back amidst the high mountain peaks, alpine forest, and fir ridges that we and the game we pursue call home.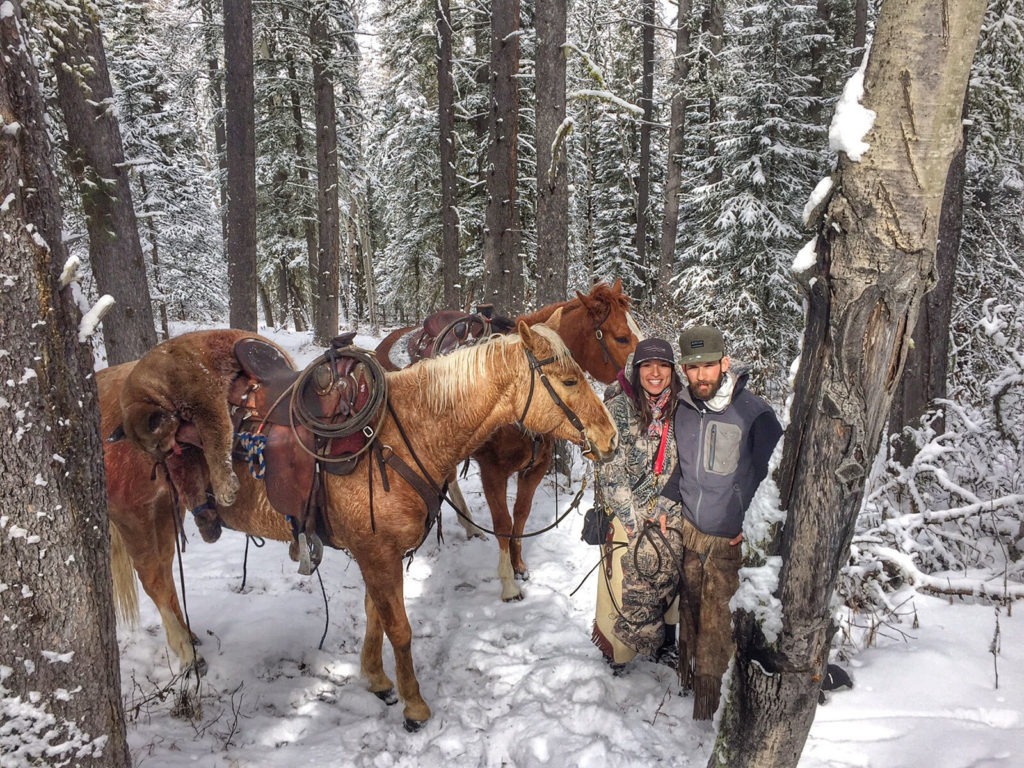 Visit our hunt pages at the links below for more information - or contact us to arrange your own custom excursion.
take it from our clients...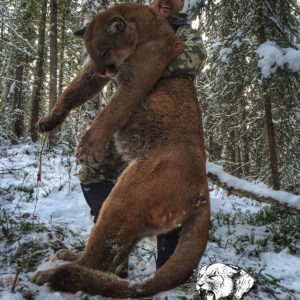 I can't say enough good things about my hunt with Kelly Morton Hunting. Kelly was honest about the expectations and what the hunt would involve. He and his crew went above and beyond to find me a big mature tom as is his goal for everyone. His dogs are second too none and I enjoyed watching them work more than anything.  We treed 3 different lion during my time with Kelly and his crew and for my one and only guided hunt I couldn't have asked for a more incredible experience. 
- Derek B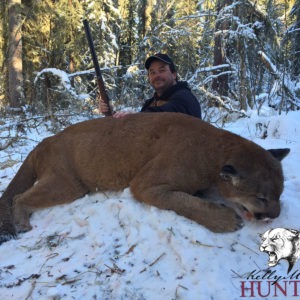 The cougar –  Canada's largest majestic cat.  I had a friend set up a cat hunt for me with Kelly and his crew for Dec. 2015. I didn't really know what to expect as most of my hunting experiences away from home have not been all that successful. I wasn't all that optimistic, however this outfitter had done his homework. At legal light on the first morning the hounds were let loose on a big tom track. These dogs and guides were awesome, staying on the tracks through deer kills and even other outfitters trying to stomp out tracks and hinder our hunt. When Kelly thought we were getting close, I started to follow the dogs. The cat was treed by and shortly after we were heading home with my beautiful cat making Boone & Crockett with an official score of 15 5/16. These people are professional, the dogs are awesome and I made some great new friends.
The whole experience was impeccable from the way I was treated, the way the dogs worked, the professionalism of the outfitter and his crew and the quality of the animal that was harvested. My only regret is the quick success we achieved didn't allow me to spend more time in the great surroundings. This is definitely the highlight of my hunting career.
Thanks again Kelly, Chelsey and crew. Another hunt with your outfit is certainly on my bucket list.
- Steve S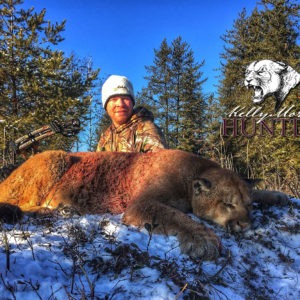 If you're looking for an above average, professional trophy mountain lion hunt I highly recommend hunting with Kelly Morton Hunting. My brother and myself hunted with Kelly and Chelsey and we were rewarded with a quality, truly world class hunt. The crews extensive knowledge of the hunting area and the drive to succeed shows in their constant success. I have been on many guided hunts and the extra care and attention to the entire hunt, the field photos, and trophy care was above and beyond.  We both harvested giant toms, with my brothers winning the largest of the season through the entire province at 15 13/16" B&C official.  I will be booking again with Kelly very soon. 
- Jesse K
Kelly and Chelsey run a top notch operation!
I've had the opportunity to hunt cougar, whitetail and mule deer with Kelly on more then one occurrence and man does he know the drill, from properly taking care of  his hunters, well trained dogs and pro guides, these boys really do know where all the big bucks and even bigger mountain lions live!
 Let's not forget about the home cooked meals to be had and hours of stories to be told at the end of each day making each day successful no matter what!!
If you want to be treated to an amazing central Alberta deer hunt, or watch some of the best dogs in the world work a mountain lion track till your big old tom is up the tree right before your eyes, then you definitely need to book a hunt with Kelly Morton hunting
- Scott B
Host Pure Instinct Outdoors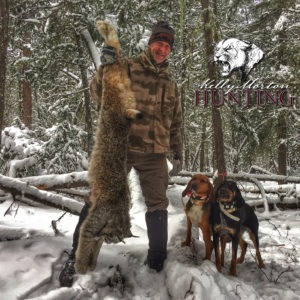 Highly recommend Kelly Morton Outfitters in all aspects, from very knowledgeable staff to quality of game, great food and comfortable lodging!!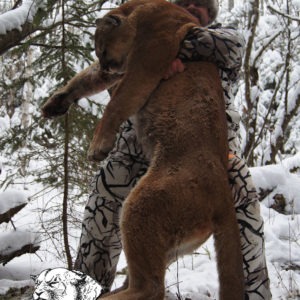 Hunting with Kelly Morton was to say the least exciting!  Action packed never a dull moment. I was thrilled to get the opportunity. Both myself and my wife both killed excellent cats. Along with my best friend. We had two out of the three cats go Boone and Crockett!! That's over 15"! Super glad we chose Kelly, great guide and great houndsman. You won't regret it, its an unreal hunt Promise you that.
- Darren C 
Solitude taxidermy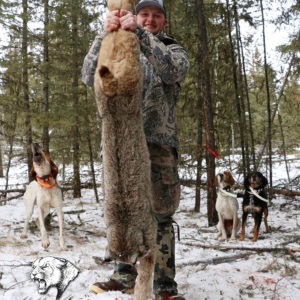 In January 2019 I went on a short notice lynx hunt in British Columbia with Kelly Morton. Kelly had a couple cancelations and without any research I decided to take a leap of faith and book a hunt with Kelly. I got there and could immediately tell Kelly was a genuine guy who wanted me to have a successful hunt. Long story short we ended up treeing four lynx in six days of hunting and we turned the hounds loose everyday of the hunt! If you are a houndsman you will really appreciate the great dogs that Kelly has. Being a houndsman myself it was a joy watching his dogs work! The food was phenomenal! We ate like kings and Kelly, Chelsey, and our guide Brett treated us like family. Kelly and Chelsey far exceeded my expectations and I came away with a beautiful trophy, some great memories,  and some great new friends. I fully intend to repeat this hunt in the future!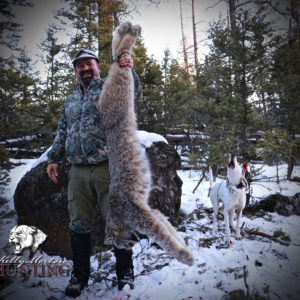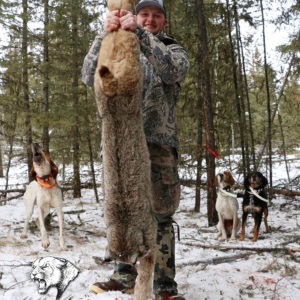 At the beginning of January I had the opportunity of a lifetime and was able to go hunt lynx in British Columbia, Canada. Kelly Morton was the outfitter for this hunt and did not disappoint. Kelly and Chelsey made sure that my friend and I felt right at home. Kelly knows the ins and outs of running and working with hounds. Kelly and his guides work hard and will do everything in their power to help you get what you came for. He is not only a great outfitter but also a great guy to be around. Chelsey did an amazing job making sure we always had enough to eat and the food was amazing. The whole week I was always looking forward to what we were having for supper. These two make a amazing team that will make your hunting experience. They are all around good people, And will make your hunting trip a trip of a lifetime! 
KELLY MORTON HUNTING
PO Box 127
Mayerthorpe, Alberta
Canada, T0E 1N0